We're thrilled that since the launch of our partnership with The Workshop in Camberley in May this year, we now have three counsellors from the Mindspace team providing regular free counselling to jobseekers in the Surrey Heath area.
The Workshop provides job seeking advice and career and development support to people aged 18 and over living in the area.  We caught up with The Workshop to find out more about our new partnership and the importance of providing free counselling to jobseekers.   
Why do you think it's important to provide counselling to jobseekers?
Being unemployed has a detrimental effect on mental health, and existing poor mental health has an impact on finding employment. It's a vicious cycle that, if ignored, can prevent an individual from ever finding lasting employment.  On a wider level, I believe poor mental health has a huge impact on the economy in terms of the cost of unemployment. Whilst medication can support some of the symptoms of poor mental health, only therapy can provide a chance at a lasting resolution.
What is your involvement with the new counselling service?
As soon as we opened our employment support service in 2021, we quickly identified poor mental health as the biggest barrier to employment and sought a solution. The waiting times for ongoing counselling via GPs is so very long and we feel that the wait exacerbates the issues. The interim measures available (free phone support for up to 6 sessions) only serve to scratch the surface and do not offer lasting solutions. We contacted a huge amount of counselling training centres to ask whether using trainee counsellors was a potential solution. Tony from Mindspace was on board with the idea from the start and together, we made a plan!
Do you think this is a service that should be more widely available?
100%!  Trainee counsellors need to practice the skills they have spent years learning and employment services need counsellors – it's a perfect fit!
What has been the demand for the service?
We initially started with two trainee counsellors offering three counselling sessions each per week. We easily filled all six sessions and have a waiting list. There's a great demand.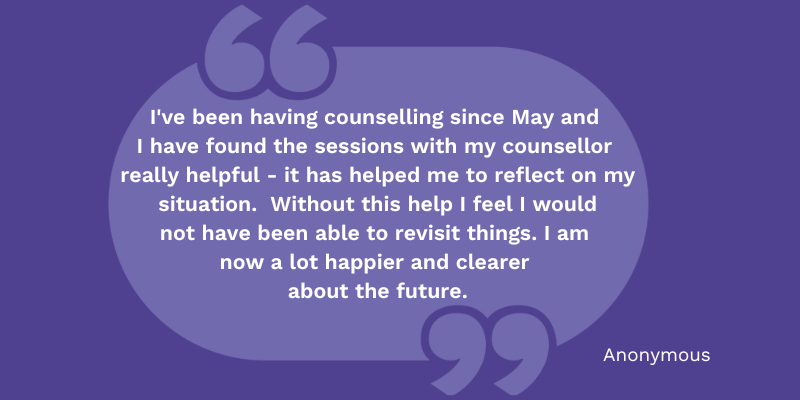 How successful do you think the service has been? How is it impacting the lives of people?
It's too early to report any actual results, but the feedback we've been getting is very positive. Our belief is that counselling is never wasted. Even if the positive effects are not immediate, the benefits of having it will be felt at some stage.
Have you come up against any challenges since the launch of the service?
The biggest challenge is finding funding to pay for the supervision costs for the counsellors to keep the service going. In order to work ethically, it's vital that all counsellors receive regular supervision from an experienced counsellor and supervisor. All other challenges have been logistical and minor.
Do you have any plans for the future of the service?
We would love to have more trainee counsellors available to offer more counselling sessions. We would also like to make a space for the counselling sessions to be held within The Workshop, rather than the council offices.